INSTANT ACCESS CLASS
SELF-PACED
LIFETIME ACCESS

This class is all about trees!

Trees are most important to us. They give us oxygen, we use their wood to build our houses and warm ourselves… and where would us artists be without paper, brushes, easels, frames etc… And for many painters, trees are one of the greatest sources of inspiration!
In the first part of this class I'll take you to gorgeous France. You see how I sketch my favourite trees on location (like at an amazing French 15th century chateau!) so you'll get inspired to go and sketch outside as well. Catch the vibe of being in nature! In a beautiful garden with stunning views of the hills near Toulouse, you'll be introduced to playing with acrylic inks. In the second part we visit my studio where I will share with you step by step: working on the foundation, colour choice and composition, painting layers and adding details with inks. I encourage you to paint in a loose, abstract and impressionistic style.
This class is for beginners or experienced painters. Watch the 1st lesson for free and get an impression of what to expect. You find it below in 'Curriculum'.
Price: USD 119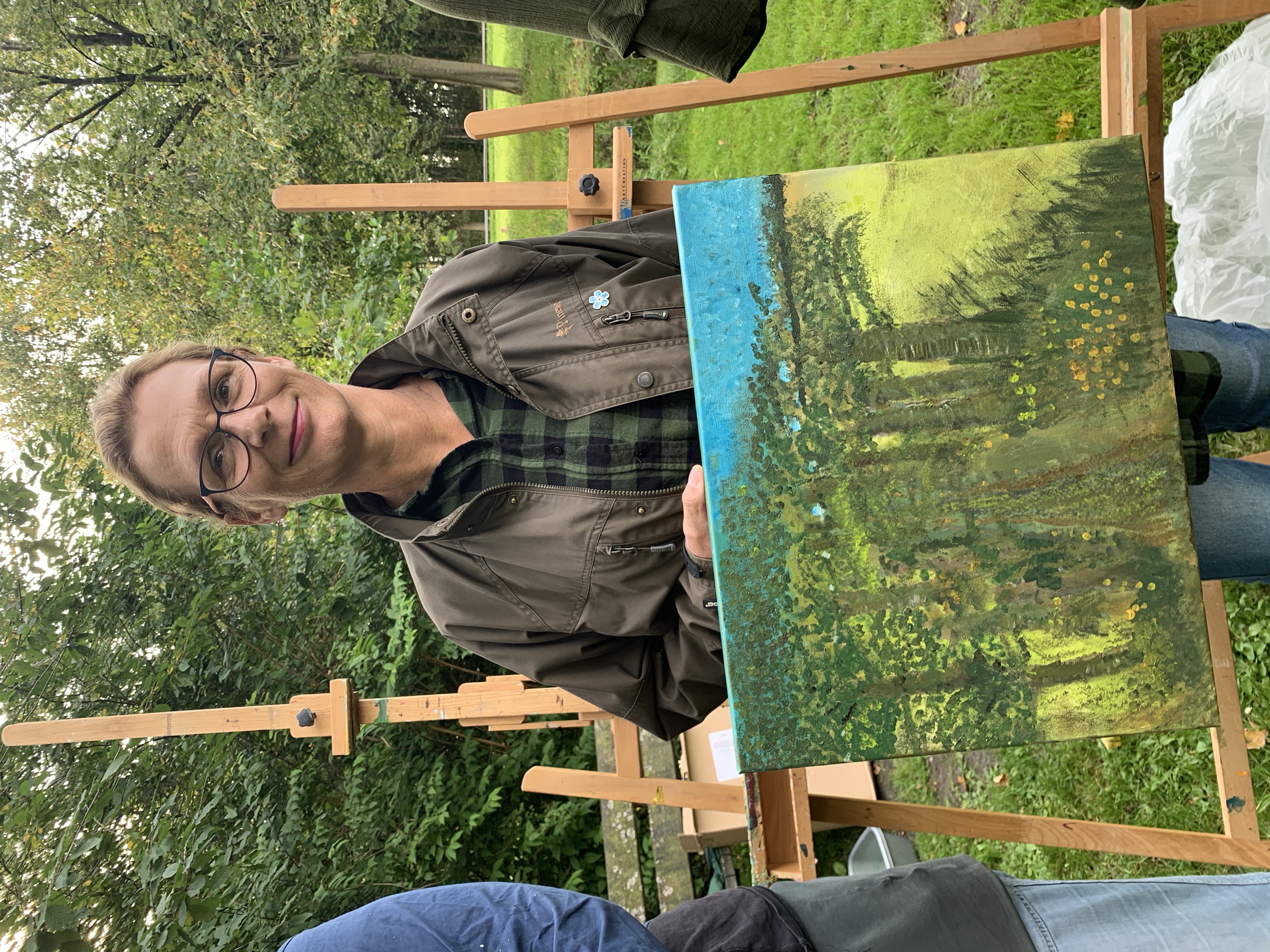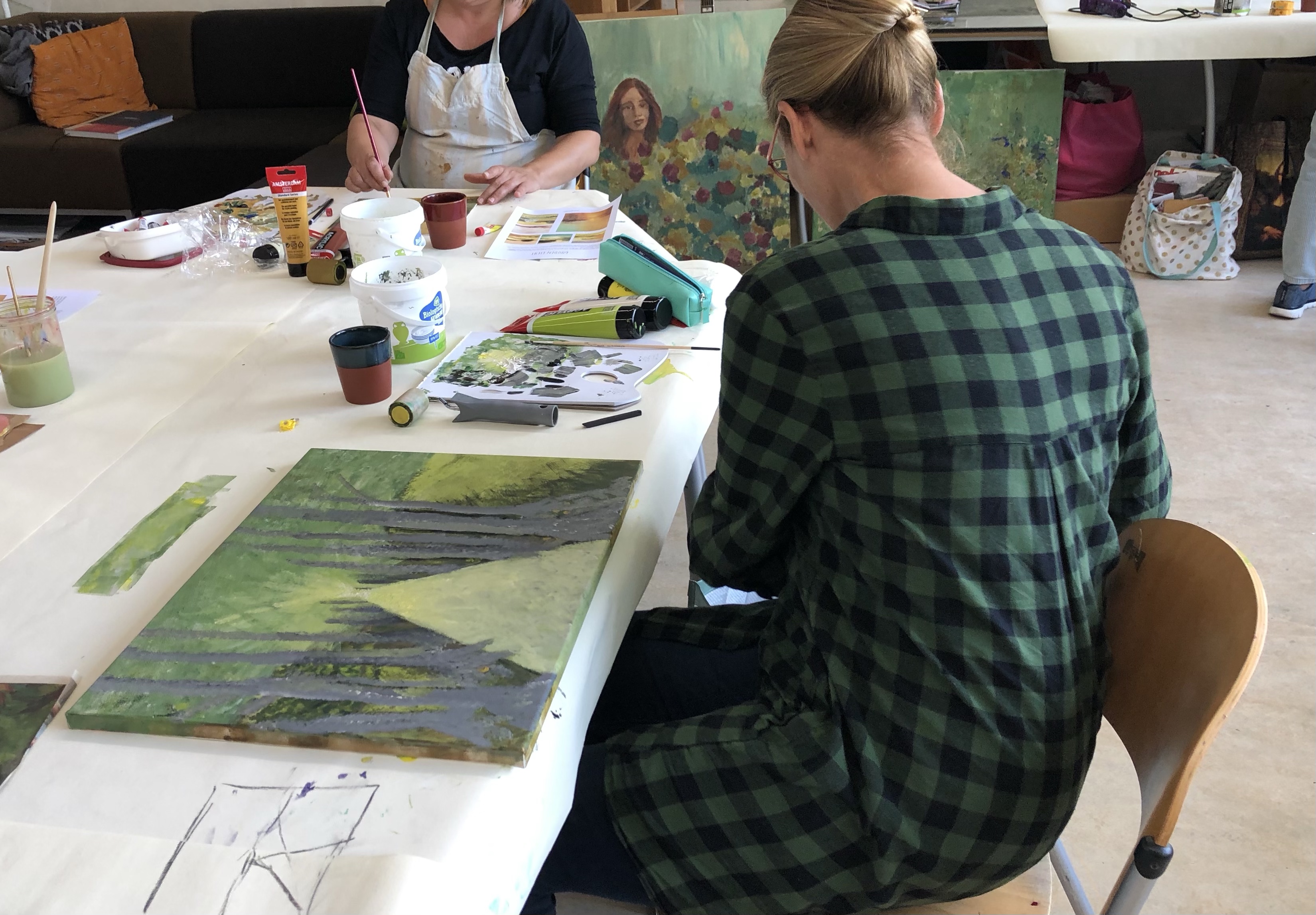 "'Trees in the light' is incredibly beautiful and inspiring! I've learnt so much and enjoyed playing and experimenting. Marloes' explanation is clear and really amazing. She's my hero! I wish you a lot of painting pleasure!"
- Marion, Student, Trees in the Light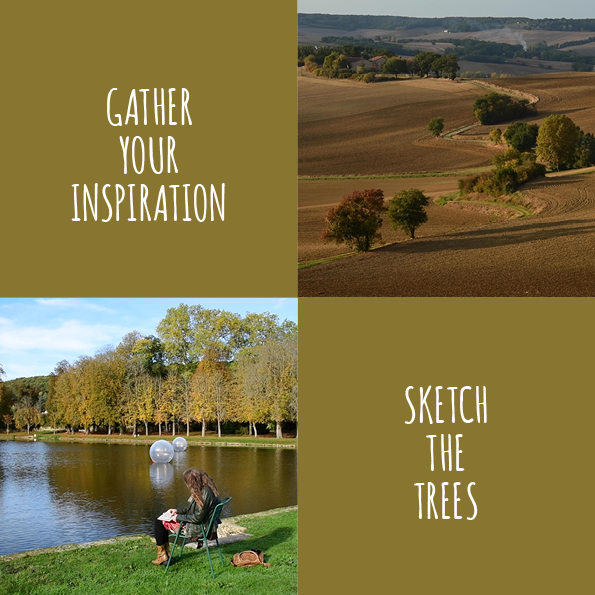 Working with wood and twigs
In the class we work with acrylic paint and acrylic inks. We create a series of 4 tree paintings. What makes this class such a rich experience is that you're not solely focusing on trees as a subject, but also using tools which trees have provided for us. We're working on wooden panels and using twigs for some of the detailed line work.

Suitable for all seasons
Another good thing about trees is, they're always there! This class is suitable for all seasons. Wonderful blossom trees in spring, full and green crowns in summer, warm and rusty colours in autumn and even in winter you can focus on the bare trees or evergreen trees.


Course Curriculum
Welcome & Introduction
Available in days
days after you enroll
Inspirational tour
Available in days
days after you enroll
Playing with the inks
Available in days
days after you enroll
Your Instructor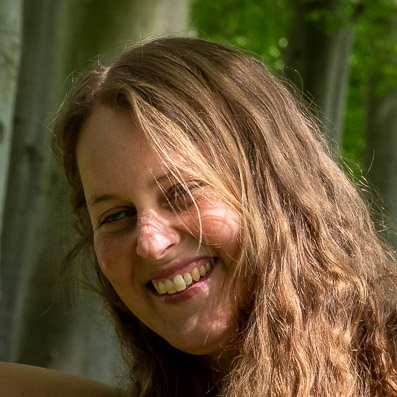 Marloes Bloedjes alias Luz is an artist living in The Netherlands, creating colorful, abstract paintings and mixed media artworks. She enjoys long walks in nature. Back home she mixes her impressions with her rich inner world. When these two come together, magical creations are born. In addition to her work as an artist, she teaches adults and children in her studio since 2010.
Since 2018 Luz is developing online classes, together with her partner, photo/videographer Anthony Verolme.
"In my art I feel a deep connection with myself and my inner world. If there were no art, there were no me."
By the end of this class you will be able to...
get inspired by nature and find your favourite trees
make quick sketches on location, using basic shapes
master 6 different acrylic ink painting techniques
transform your sketch into an acrylic piece of art
paint your trees step by step, from rough to more detailed
create art with a loose, impressionistic and playful style
bring in more depth in your paintings, by using shadow and light
use the wonderful techniques of the roller
complete a balanced series of trees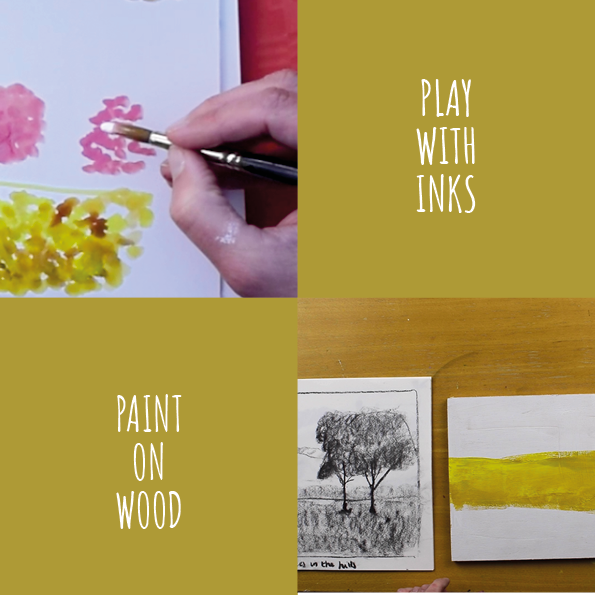 What's included...
Over 4 hours of video content, containing:

an inspirational tour and sketching sessions on 2 fantastic locations in France
a playing with the inks session in a beautiful garden with a stunning view
the painting sessions in the studio: I show you my 4 pieces of art, step by step, including how to work with the acrylic paint
and in the last part of the class adding the inks.

A downloadable and printable PDF workbook filled with extra tips & tricks about creating a series, how to create shadow and light, composition, a lot of inspiring images and pages for journaling and your sketches.
An option to jour our private Facebook community Luz Artworks where you can get inspiration, feedback and warm conversations with other students.
Lifetime acces to the workshop. Study anywhere, anytime, at your own pace!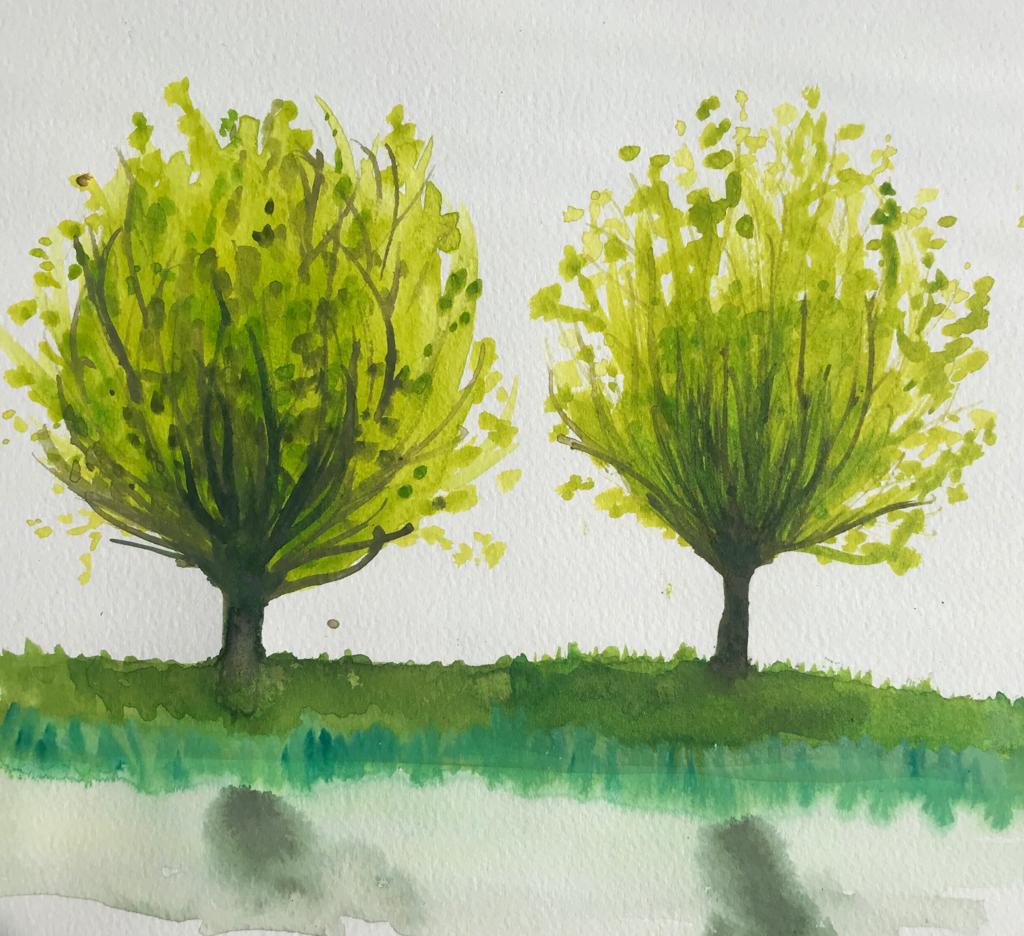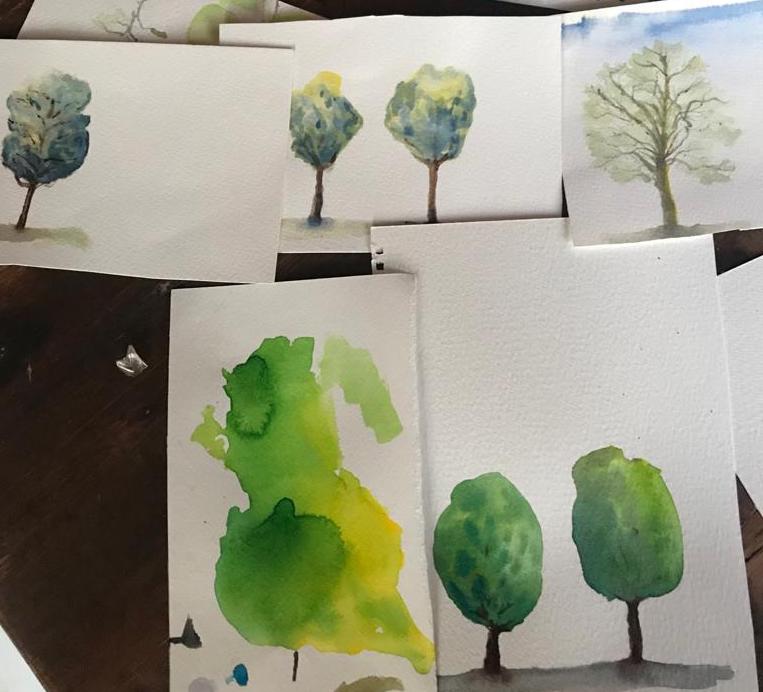 "I really enjoyed playing with the inks... They were quite new to me, but it's great working with them!"
- Susanna, Student, Trees in the Light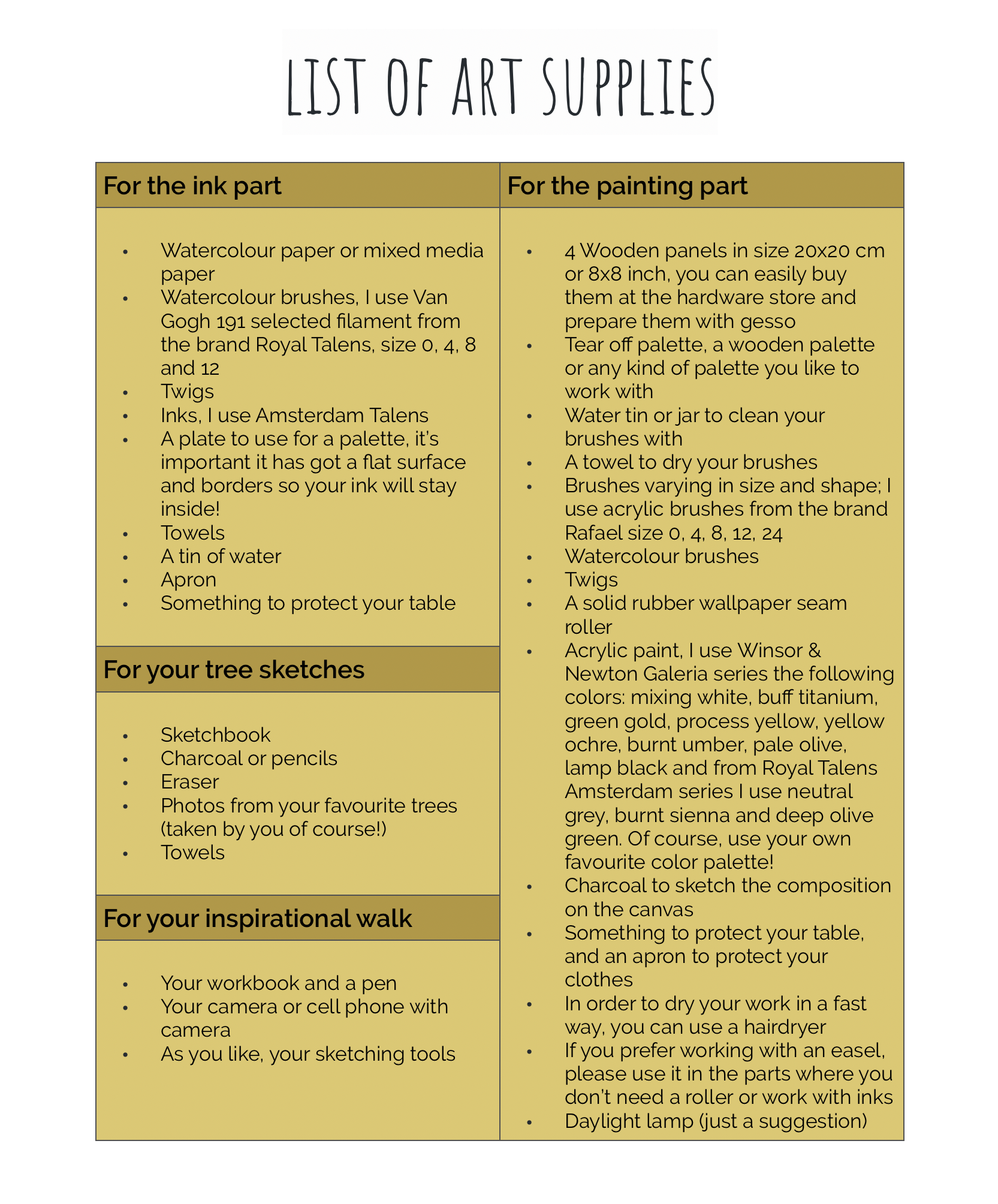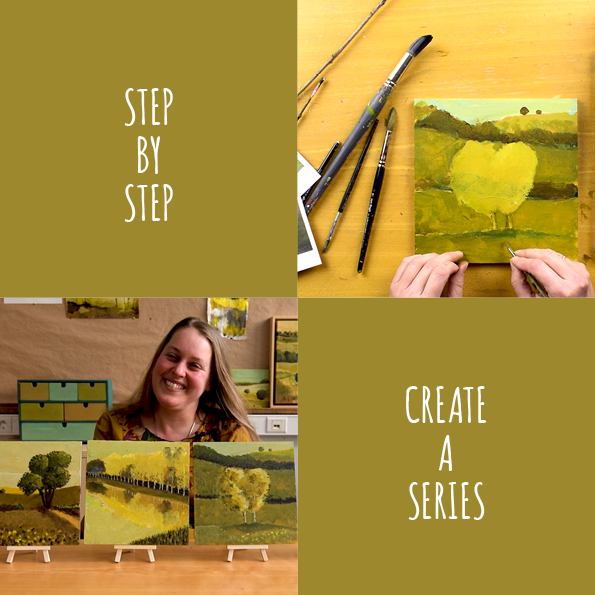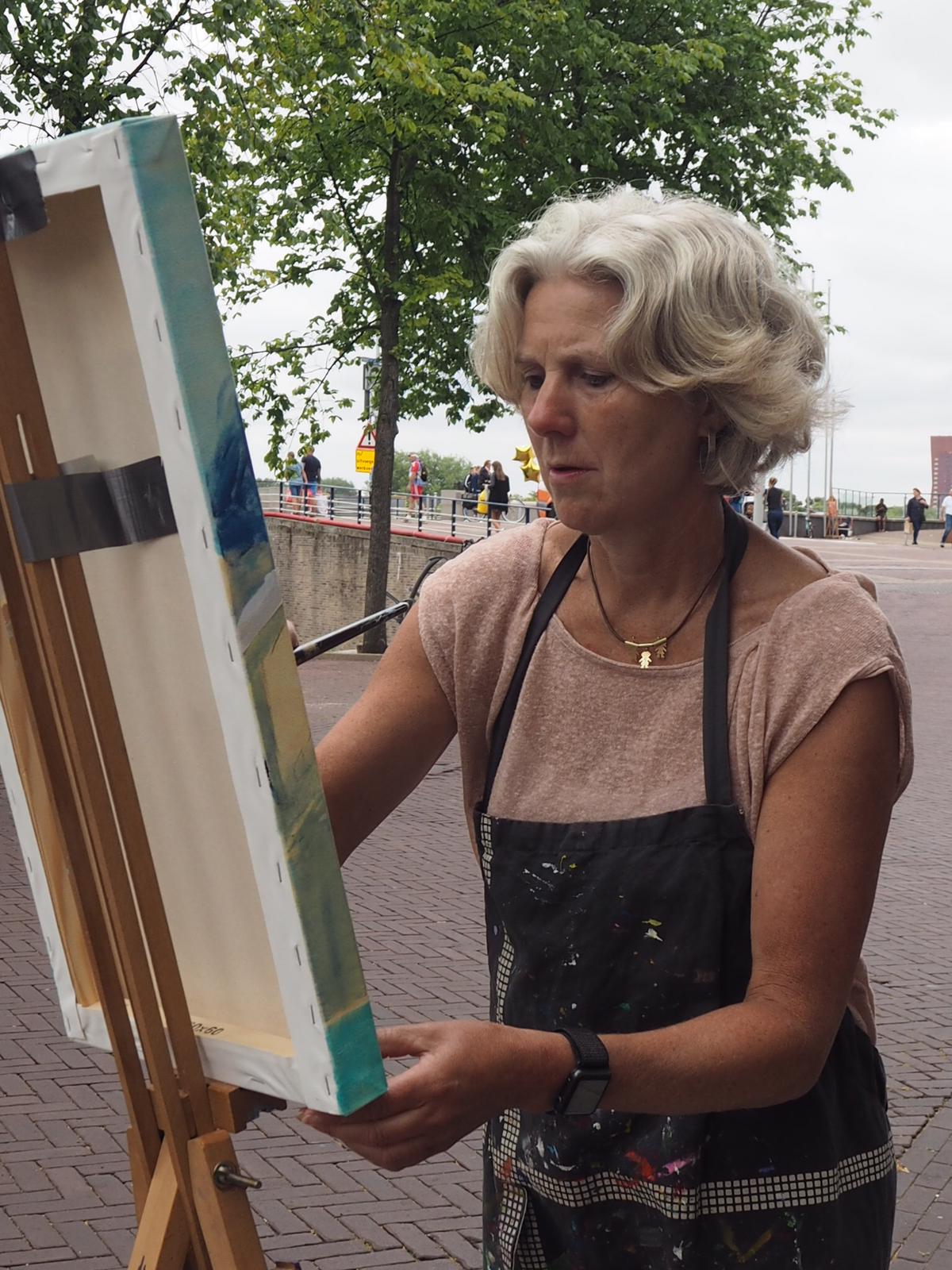 "It was a great pleasure to join in the course 'Landscapes in Lines'. This class was coming at the right moment, as I was figuring out how to translate landscapes into a more abstract form. I found it helpful to see how Luz firstly creates her sketches in nature and later uses them for her paintings. Also her special color palette was inspiring, which stimulated me to try to use different colors too. She showed her work, in many layers and with a lot of texture.
I am continuing my search for abstraction in paintings, to work in lines more and more. The instructions in the lessons are very clear and you can watch them time and time again.
- Nanneke, Student, Landscapes in Lines
Frequently Asked Questions
When does the course start and finish?
The class is open on the 21th March 2020. At this time all of the course material will be available for you to view, download and work through.. It is a completely self-paced online course - you decide when you start and when you finish.
How long do I have access to the class?
How does lifetime access sound? After enrolling, you have unlimited access to this course for as long as you like - across any and all devices you own. What level is the course suitable for? This course is for anyone who has ever wanted to sketch and paint trees. The material is suitable for beginners and more experienced artists.
Do I need all the art supplies?
No, I encourage you to work with what you have and adapt the class to suit your needs. And, working with new supplies can be very inspiring as well! I strongly advice you to buy a wallpaper roller and the acrylic inks for this workshop.
Do I need high speed internet for the course?
Yes, you will need a good internet connection to view and/or download the video content for this course.
Will there be an online community for this course?
Yes, I will provide details of how to submit a request to join the Luz Artworks Facebook community. There is also a hashtag #treesinthelight that you can use.
What is the Enrollment & Checkout procedure?
Enrolling is easy and fast! When you are already familiar with online checkouts, just hit one of the brown buttons on this page button and proceed to the checkout. If you are quite new to this, please read the information in the section below on this page on enrolling and paying for the course and what to expect next. Your class can begin in a few minutes!
Are there other payment options, like Maestro, Giropay, bank cards etc?
Yes of course! Until Teachable gives us more payment options, we have to be a bit creative. I can send you a payment request for almost every payment option available. Please send an email to
[email protected]
Place in your subject: "please enroll me" and I'll be right back to you with instructions and links to your personal course page.
Enrolling is easy, secure & fast!
Enrolling is easy and fast! When you are already familiar with online checkouts, just hit one of the big brown buttons on this page and proceed to the checkout. Don't forget to tick the necessary boxes in order to receive instructions to enter. You can start your class in 2 minutes! ;)
If you are quite new to this, please read the information below on enrolling and paying for the course and what to expect next. You'll be on your way in just a couple of minutes! In the (rare) case that you might need some assistance, please don't feel bad about yourself. Don't be shy and email me: click this link to open a new email message to me and I'll personally guide you through the process. A simple Help in the subject of your email will do.
Love, Luz
Once you've decided to purchase my course you'll be directed to the checkout page. You'll be able to add a VAT ID (if applicable), as well as select which account and payment method you'd like to use to purchase the course.
If this is your first time purchasing a course from this school, and therefore you do not have an account already, the email address you enter here will be used to create your account, which is necessary to access your personal course material. After you input an email address, click Continue to validate your email address.
After completing your purchase, you'll be prompted to input your name and create a password for your account. You'll also be sent an email asking you to confirm your account.
If you already have a school account, you'll have to enter your email address and click Continue. Then, you'll be prompted to enter your account password.
Similarly, if you are purchasing my course and have an existing myTeachable account (on which this course is published), you'll be asked to input your myTeachable account's password.
Enter your preferred payment option (Credit card, PayPal, Apple Pay or Google Pay) and information. Your payment will be processed via secure 128-bit SSL encryption. In some cases, your bank may require you to authorize your credit card payment. If so, a pop-up window will appear prompting you for additional information to authorize the payment with your bank.
Don't forget to hit that BUY NOW button after you entered your information ;)
Once you complete your purchase, you'll be directed to a thank you page and will automatically receive a receipt to the email specified in the Account Information section that provides more details about your purchase.
You'll also receive an account confirmation email. To confirm that your email address is correct, click Confirm Email.
Now, you can log in and access your new course, enjoy!