INSTANT ACCESS CLASS
SELF-PACED
LIFETIME ACCESS
Let's play with patterns!

In this 3+ hour video class I welcome you into the wonderful world of patterns. Step by step, I'll be guiding you through the process; from gathering inspiration, choosing a colour palette, designing your own patterns, applying them and create an amazing abstract piece of art.
Creating your own pattern design is the perfect way to completely lose yourself in the process. You don't have to think too much; it can even feel like a meditation. Warning: it's very addictive! ;)

Tip: If you need assistance signing up or when you 'd like to use another payment method, don't hesitate to contact me personally via email: [email protected]. When you don't receive a confirmation email after successfully signing up, please check your email spam box and confirm your account.
Course summary
more than 3 hours in 23 separate video lessons in which I will show you how I design my patterns. You see me working on 2 canvasses, which I develop step by step into balanced art pieces, using mixed media techniques;
a workbook to download and / or print, with exercises to get you started, background information and a detailed explanation of all materials;
an invitation to join our private Facebook community Luz Artworks where you meet with fellow artists. This is a great source of inspiration and a chance to share your work and gain valuable feedback.
unlimited acces to the class
the ability to watch the course at your own pace, when you want to, as often as you wish. You can watch it from your desktop, but also from your tablet or your phone in a browser or with a special iOS app.
this is part 1 of 3 mixed media courses, each with a different theme and different techniques.
Each part is a complete course!
Price: USD 79
BONUS: 10% DISCOUNT on PART 2: Fantasy Flowers and/or PART 3: Mixed media Angels You'll receive your personal discount coupon right after you've purchased this course. You will save a total of USD 38 on the regular sales price when you purchase the Mixed Media Bundle containing all 3 mixed media classes.
Please watch the first lesson in the Curriculum section below, you will get a good idea of what this course is about!


603 satisfied school members!


Course Curriculum
Introduction
Available in days
days after you enroll
Choosing a colour palette
Available in days
days after you enroll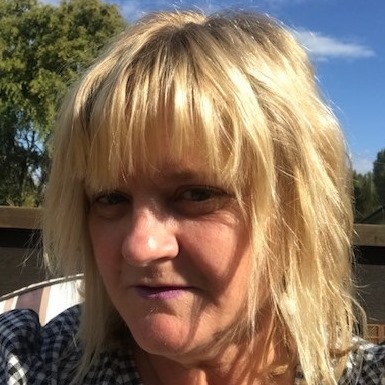 "I enrolled in the Pattern Playing course at Luz.Artworks that I saw advertised on Instagram. I watched the full set of videos then went to gather all my supplies and got to work. This course was so inspiring that I could not stop working at, or dreaming about, my art pieces for three days straight! Luz is an excellent teacher and I found her so aligned with my thinking – "it's all about the process" and "know when to stop if it doesn't add to the piece"! The course and workbook were so clear, of high quality, and so inspiring. Next time I will work with more muted colours and will work more on developing my patterns, although I was still very happy with my results. I look forward to doing another course with Luz – I think there is an Angel course coming up 😊 Thank you Luz."
- Nancy, Victoria, BC, Canada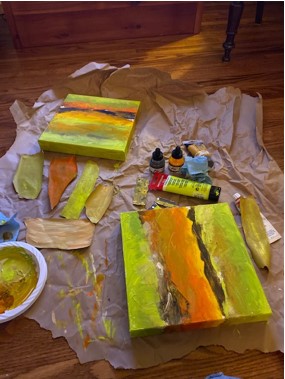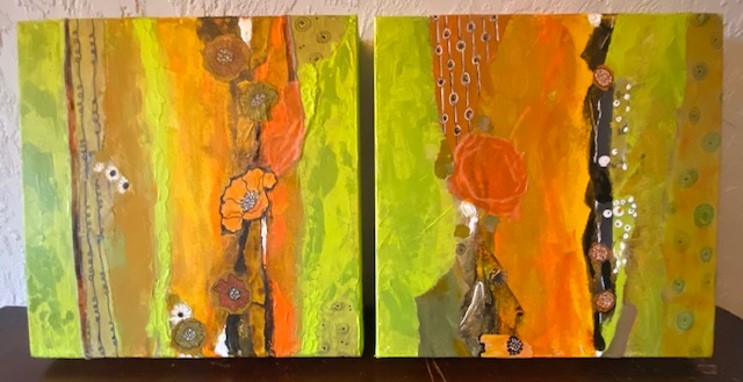 Your Instructor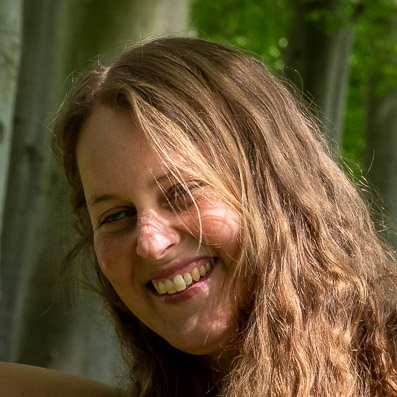 Marloes Bloedjes alias Luz is an artist living in The Netherlands, creating colorful, abstract paintings and mixed media artworks. She enjoys long walks in nature. Back home she mixes her impressions with her rich inner world. When these two come together, magical creations are born. In addition to her work as an artist, she teaches adults and children in her studio since 2010.
Since 2018 Luz is developing online classes, together with her partner, photo/videographer Anthony Verolme.
"In my art I feel a deep connection with myself and my inner world. If there were no art, there were no me."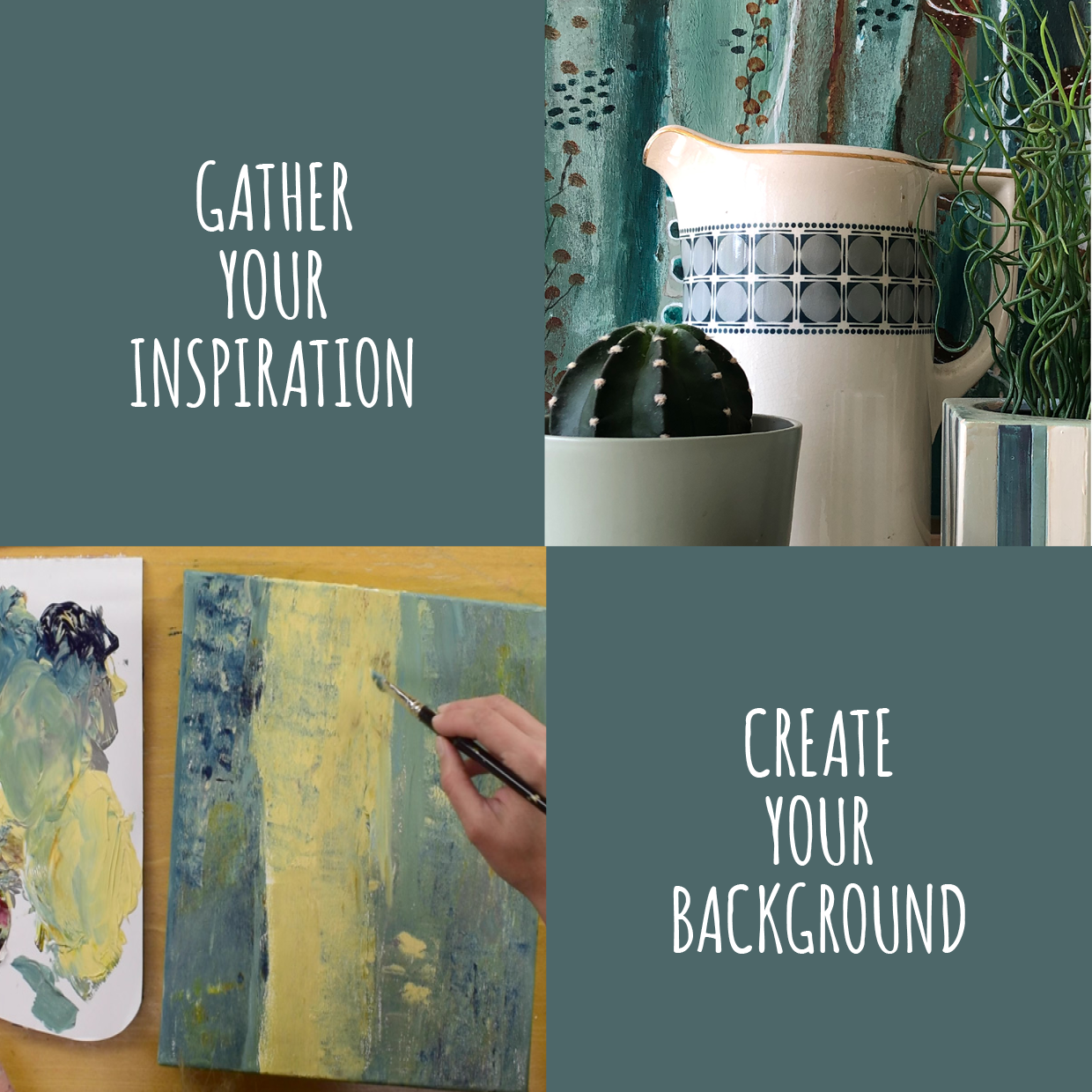 Patterns are everywhere!
Before you're getting started with creating your own patterns, you gather inspiration from things surrounding you in your daily life. As soon as you'll get started with this course, you'll find out that patterns are everywhere! If you only take a look around your house, you'll discover them... So, you don't need to go anywhere to spark ideas. Although, of course inspiration can be found in many places, from an inner city church through to a walk in nature.
Step by step
In this course I'll reveal the great secret of creating a balanced abstract mixed-media painting. The first step is choosing a colour palette and use those colours to create the foundation for your canvas. After that you start to draw your patterns on small pieces of paper. Once you have enough of these, you can begin your collage. Keep checking in with yourself after each piece is added: is this too much or does it need something adding? Once you feel a balance is achieved, your artwork is completed!
Mixed media techniques

What I love about mixed-media, is you don't need many materials to work with. As a basis, all you need is a canvas, acrylic paint and paper for your pattern-work. The rest is up to you! You could add pre-patterned paper, fabric, tea bags... or even dried flower petals. I encourage you to think out of the box, as there are many resources you could use in your piece. Having said that, you don't need much in order to follow the class.
For all levels
Whether you are an experienced artist searching for a fresh approach or have no art experience at all, this course is suitable for you! The lessons are designed to help you open up to new techniques and (re)discover that playful experience. Creating and having fun are more important, having an end result to be proud of is a nice bonus!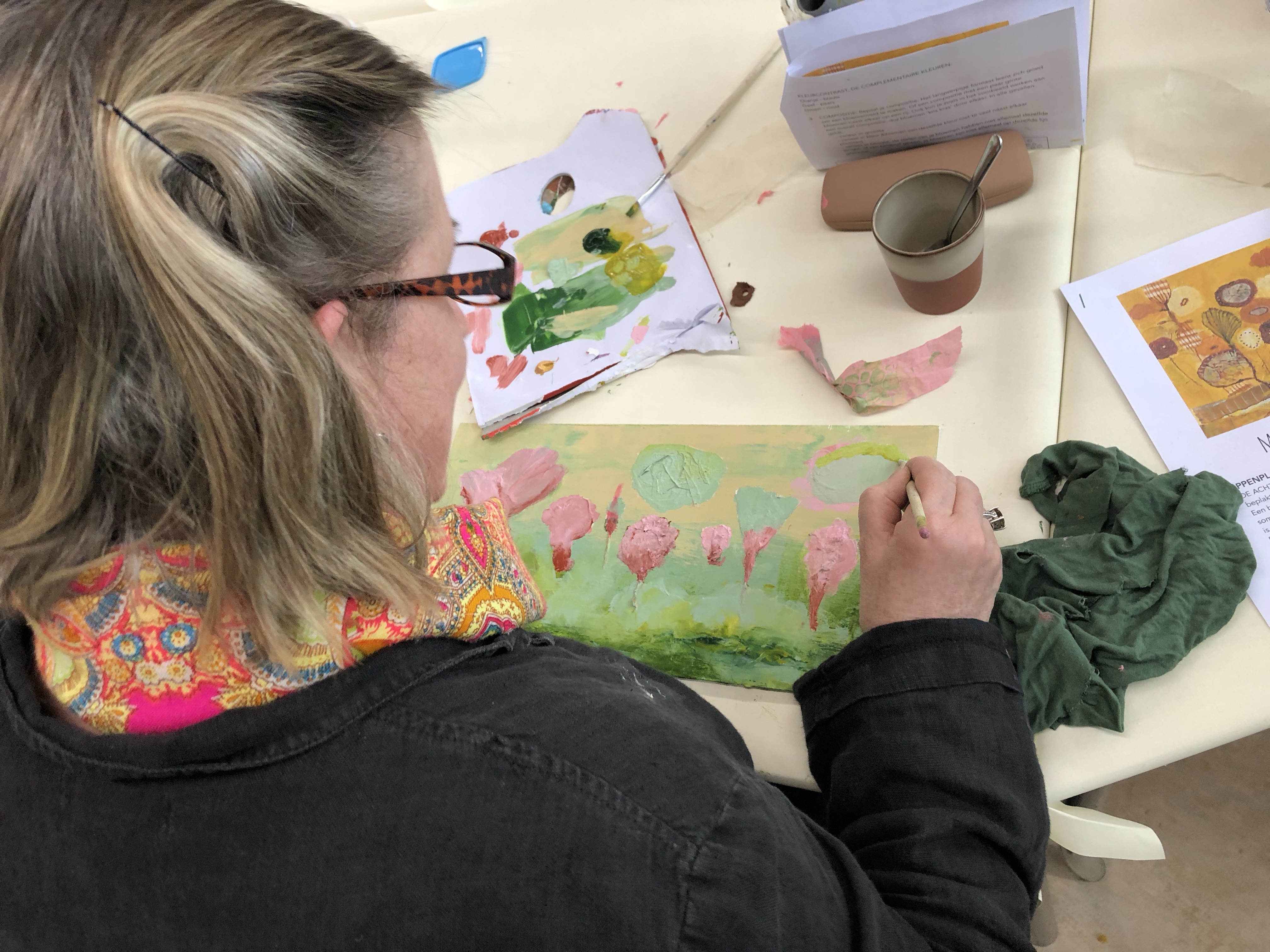 Testimonial
"The online workshop Pattern Playing is a must! I am very enthusiastic about Luz' clear explanations and videos of how to create your own pattern 'paradise' (The name of this course alone makes you happy). Once you have purchased the workshop, you can ALWAYS look back at it. An absolutely attractive workshop with particularly beautiful results for both the beginner and the experienced artist. I'm happy to share my first results with you below!"
- Sonja, student of the course ''Pattern Playing'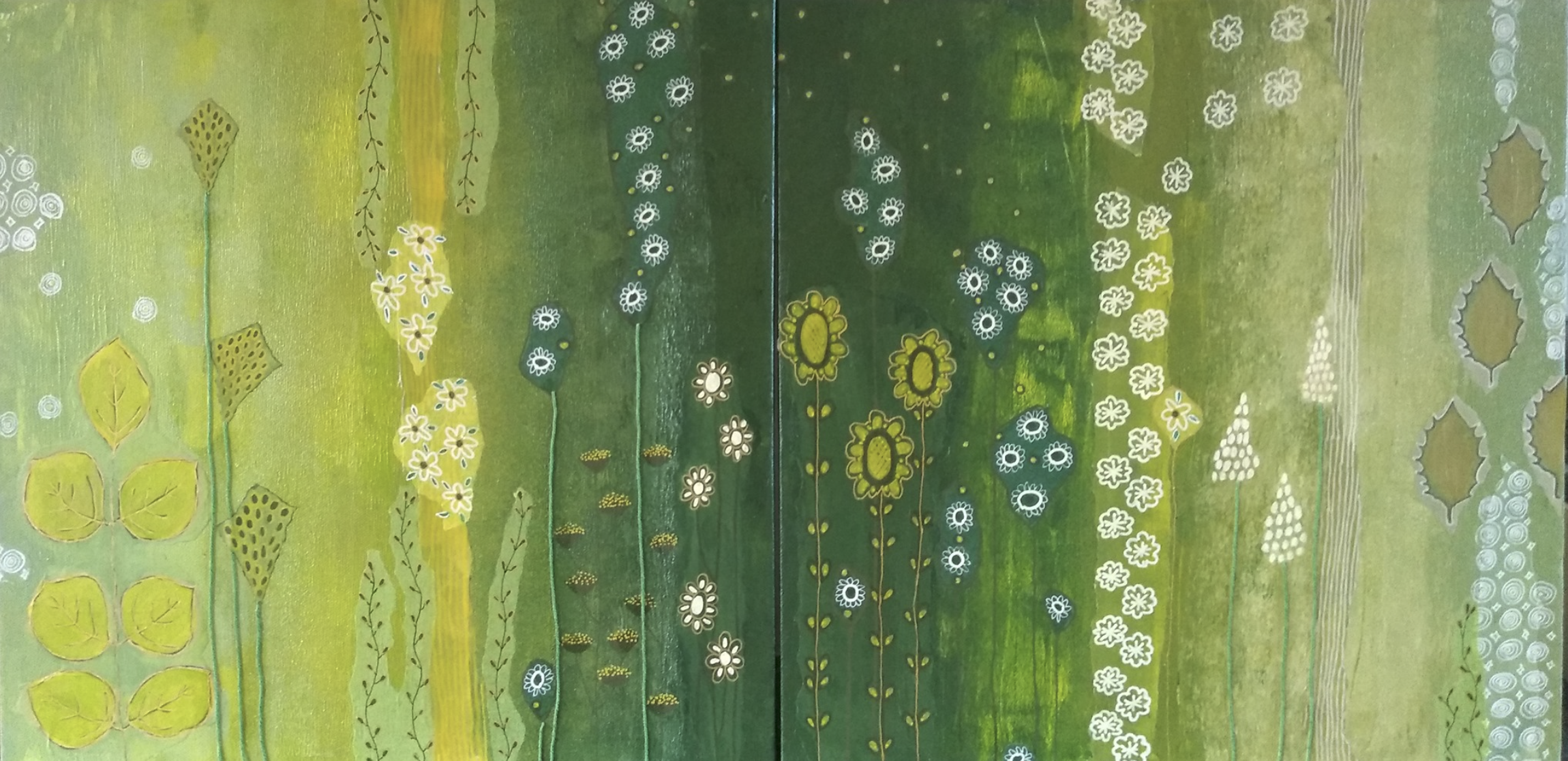 By the end of this class, you will be able to...
design several patterns and discover your own style;
select a balanced colour palette;
create a background with the roller and acrylic paint;
step-by-step, create a beautiful and cohesive mixed media art piece.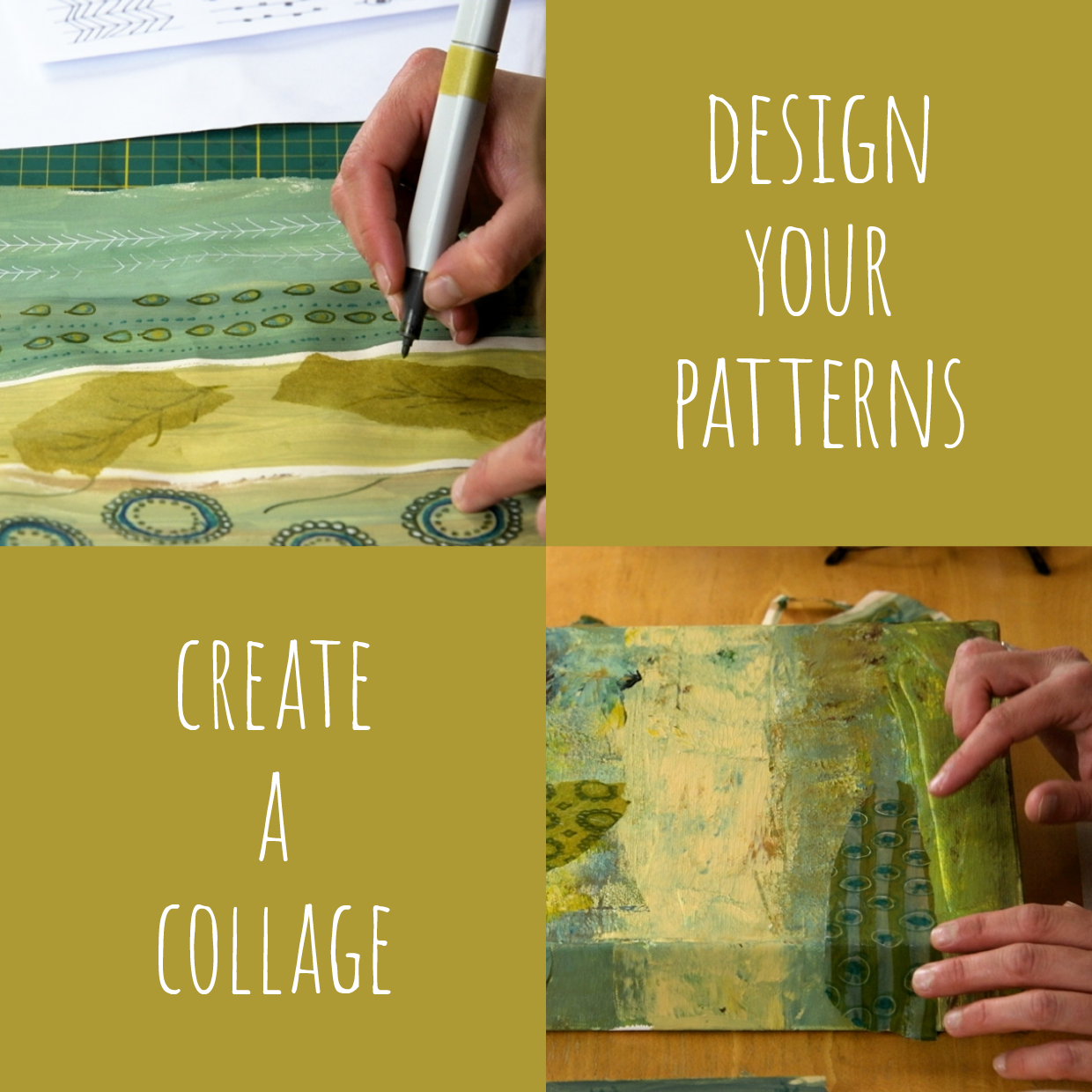 What's included?
Over 3 hours of video content, in which I'll be showing you how I go about designing my patterns. You see me working step-by-step on two canvases, using different mixed media techniques.
A downloadable and printable PDF workbook file containing extra tips and tricks, journaling pages and exercises on how to design your patterns;
An invitation to join our private Facebook community Luz Artworks where you meet with fellow artists. This is a great source of inspiration and a chance to share your work and gain valuable feedback.
Unlimited acces to the class.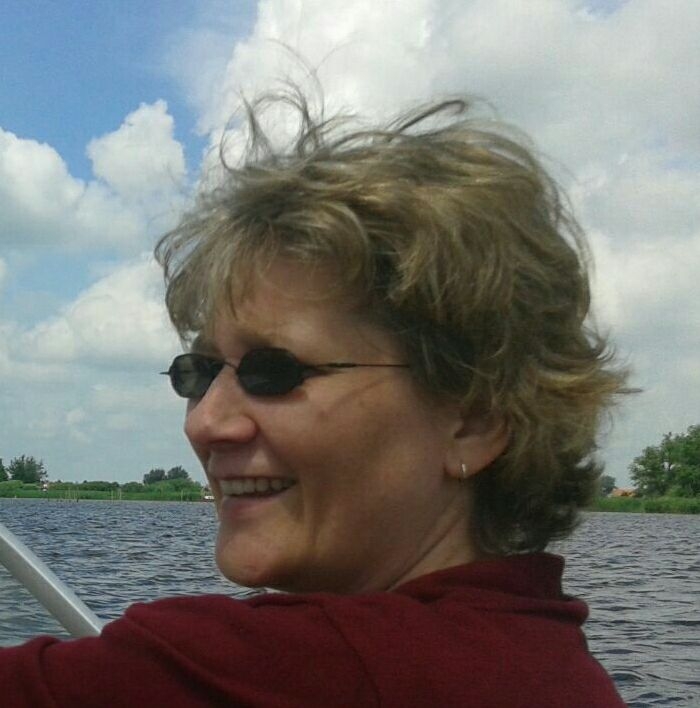 "Having become enthusiastic after watching the introduction video, I started with the lessons in the course Pattern Playing. Luz explains the different steps well, shows how she works and also gives tips in between. For example, where you can find inspiration for patterns, which material is best to use, etc. I have already made several paintings with great pleasure, it is wonderful to do and I get completely out of my head. I hope you like them!"
- Angelique, student of the course ''Pattern Playing'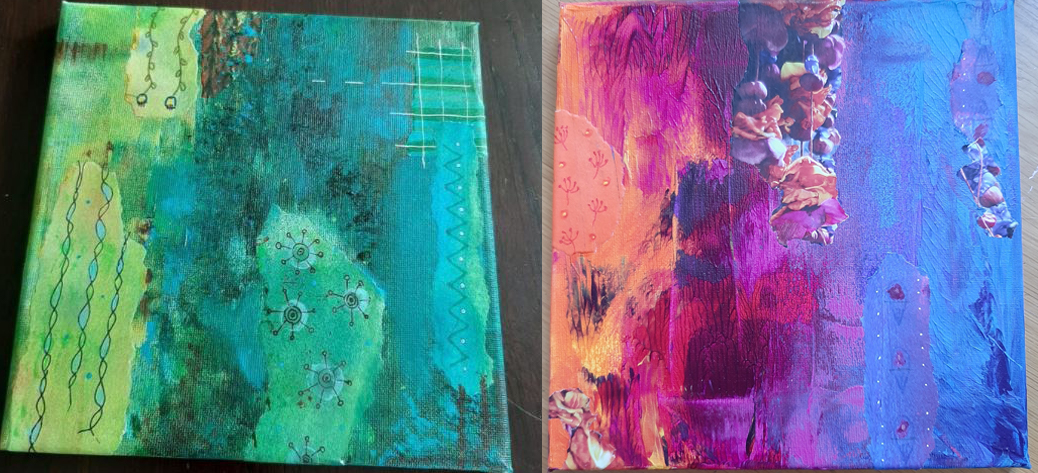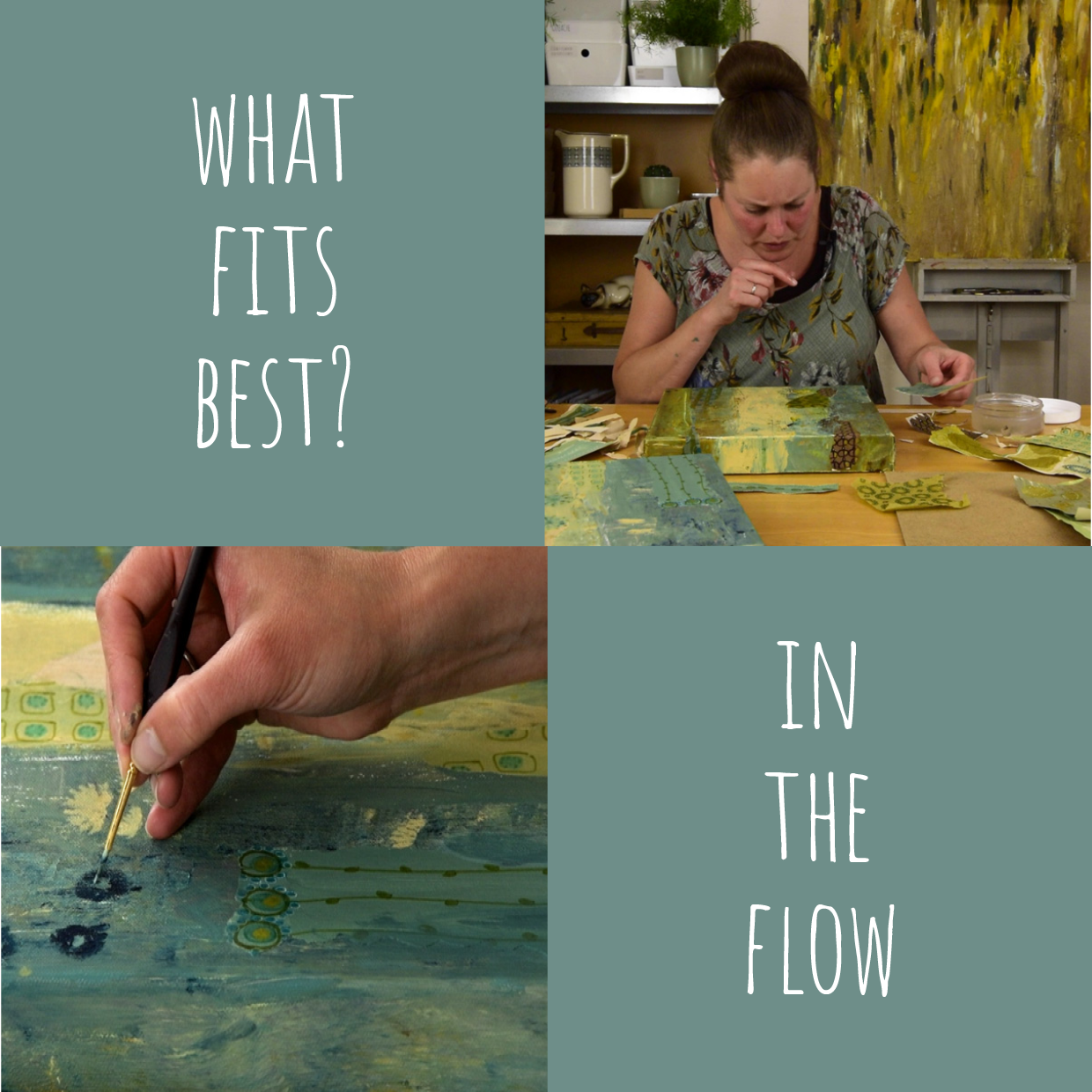 List of supplies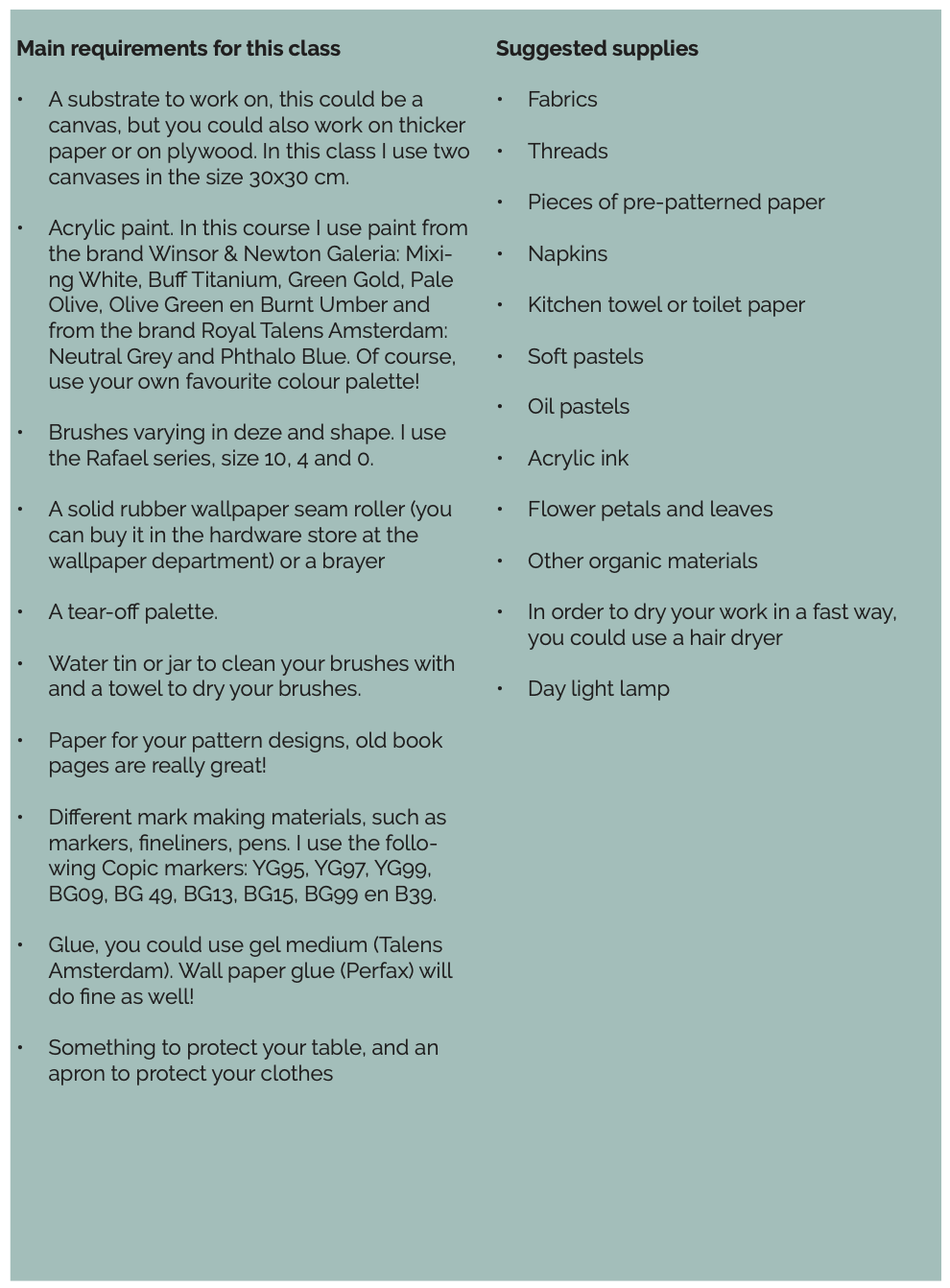 Frequently Asked Questions
When does the course start and finish?
This is a completely self-paced online course - you decide when you start, how long you work and when you finish. The class is permanently open and of the course material will be available for you to view, download and work through.
How long do I have access to the course?
How does unlimited access sound? After enrolling, you have unlimited access to this course for as long as you like - across any and all devices you own. What level is the course suitable for? This course is for anyone who has ever wanted to sketch and paint trees. The material is suitable for beginners and more experienced artists.
Do I need all the art supplies?
This list of supplies is split up in two categories. There are some basic requirements, you'll need a surface to work on, (like a canvas), acrylic paint and paper for your pattern designs. It's up to you what else you use! The good thing about mixed-media is you can make a lot of stuff without much supplies.
Do I need high speed internet for the course?
Yes, you will need a good internet connection to view and/or download the video content for this course. If you're using the Teachable app on your iPad or iPhone, you could download all lessons to watch them offline.
Do I need to have experience with mixed media before I start with this class?
This class is suitable for all art levels, whether you are a beginner or an experienced artist. Everything will be explained step by step, I'll teach you a lot of techniques so there will be something new for everybody joining the course! Being open and eager to learn are more important than the level you're at!
Will there be an online community for this course?
Yes, I will provide details of how to submit a request to join the Luz Artworks Facebook community. There is also a hashtag #patternplaying that can be used on Instagram and other social media platforms.
What if I'm unhappy with the course?
I would never want you to be unhappy! If you are unsatisfied with your purchase, contact me in the first 30 days and I will give you a full refund.
What is the Enrollment & Checkout procedure?
Enrolling is easy and fast! When you are already familiar with online checkouts, just hit one of the brown buttons on this page button and proceed to the checkout. If you are quite new to this, please read the information in the section below on this page on enrolling and paying for the course and what to expect next. Your class can begin in a few minutes!
Are there other payment options, like Maestro, Giropay, bank cards etc?
Yes of course, we need to make a little detour for that to my Dutch company website Toverzicht. Through the link below, which you need to copy and paste into a new browser tab) you will be directed to the product page for Pattern Playing (EN), simply drop this product in your shopping cart winkelmand), go to the checkout and pay with a payment of your choice. After you have purchased my course, you will receive an email from me with a personal code and instructions to enroll in the class. Easy-Peasy! Please copy/past this link in a new browser tab: https://toverzicht.nl/shop/online-cursussen/online-course-mixed-media-pattern-playing/
Enrolling is easy, secure & fast!
Enrolling is easy and fast! When you are already familiar with online checkouts, just hit one of the big brown buttons on this page and proceed to the checkout.
You can start your class in 2 minutes! ;)
If you are quite new to this, please read the information below on enrolling and paying for the course and what to expect next. You'll be on your way in just a couple of minutes! In the (rare) case that you might need some assistance, please don't feel bad about yourself. Don't be shy and email me: click this link to open a new email message to me and I'll personally guide you through the process. A simple Help in the subject of your email will do.
Love, Luz
Once you've decided to purchase my course you'll be directed to the checkout page. You'll be able to add a VAT ID (if applicable), as well as select which account and payment method you'd like to use to purchase the course.
If this is your first time purchasing a course from this school, and therefore you do not have an account already, the email address you enter here will be used to create your account, which is necessary to access your personal course material. After you input an email address, click Continue to validate your email address.
After completing your purchase, you'll be prompted to input your name and create a password for your account. You'll also be sent an email asking you to confirm your account.
If you already have a school account, you'll have to enter your email address and click Continue. Then, you'll be prompted to enter your account password.
Similarly, if you are purchasing my course and have an existing myTeachable account (on which this course is published), you'll be asked to input your myTeachable account's password.
Enter your preferred payment option (Credit card, PayPal, Apple Pay or Google Pay) and information. Your payment will be processed via secure 128-bit SSL encryption. In some cases, your bank may require you to authorize your credit card payment. If so, a pop-up window will appear prompting you for additional information to authorize the payment with your bank.
Don't forget to hit that BUY NOW button after you entered your information ;)
Once you complete your purchase, you'll be directed to a thank you page and will automatically receive a receipt to the email specified in the Account Information section that provides more details about your purchase.
You'll also receive an account confirmation email. To confirm that your email address is correct, click Confirm Email.
Now, you can log in and access your new course, enjoy!