Instant Access Class | Self-Paced | Lifetime Access

Play, Print, Paint, Create!
This painting course covers all the aspects of the Gelli™ Plate Printing; from playing around and creating wonderful backgrounds to working out the results with various mixed media techniques. To make it extra fun we work with botanical items during this class. 
Like in all my other courses, you have a lifetime access to this class and you can watch the video lessons when and where you want. The class is completely self-paced. You'll receive a downloadable workbook that you can use as a reference guide.
By the end of the class you will be able to use all the basic techniques for Gelli plate printing. Also you can vary in options of stamping, stencilling and using glazing medium. You will have a collection or series of your favourite botanical prints that you finished with various techniques, such as inks, pens and markers.
Finally, you'll receive an invitation to join our private Facebook Community for students only. Here you can share your work, ask questions, receive and give feedback and share tips and tricks with your fellow creators.
Watch the introduction video below to get an idea what this painting class is about! Or watch the 1st lesson from this class free, scroll down to Curriculum and click on the first lesson..
Duration: ± 3 hrs and 45 min.
Suitable for all levels of experience.

Watch the introduction video!
What is Gelli™ Plate Printing?
I love working with Gelli™ Plate printing techniques or Gelatine printing to create some cool textures and designs. It is a cheap, easy, and fun way to get creative and create some art. Gelli™ plate printing is a mono-printing technique that works with a plate made out of glycerine and gelatine. The plate is inked with paints or ink, and impressions are made using stencils and various natural materials like leaves or plants, flowers etc. Paper is then laid on top of the plate and a paint or ink impression is pulled off. I prefer to use acrylic paints and inks for my printing, like most Gelli™ plate creators do.
Printing leaves 
Using plant material in combination with the Gelli plate can give astonishing results. You collect your own botanical items. To make it extra personal, you learn techniques to create your own (longer sustainable) botanical inspired stencils.
Working out your prints
In this class I offer you several options to finish your prints and create a collection or a series with an overlapping theme.
Some prints dont' need anything more than a few lines with a fineliner or a brush strokes. On other ones you could overlap parts with transparent layers. 
Once you have selected your favourties, you could make a series of postcards out of those or hang them on your wall. It's also a wonderful present to give to your loved ones. 
2 Bonus Lessons
1. Working out several Gelli prints from a beautiful Monstera leaf.
2. Never throw away your 'failure' Gelli prints! You can use them for the mixed media bonus lesson. Create a wonderful angel, a flower piece or anything you like.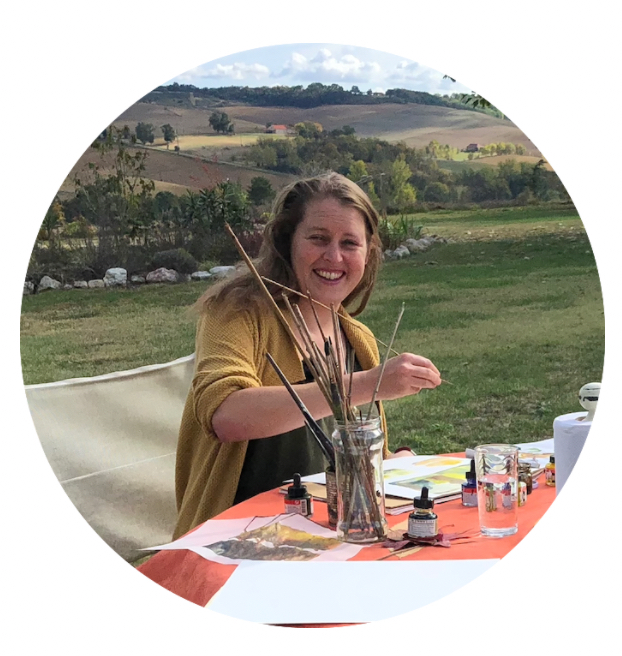 Marloes Bloedjes alias Luz is an artist living in The Netherlands, creating colourful, abstract paintings and mixed media artworks. She enjoys long walks in nature. Back home she mixes her impressions with her rich inner world. When these two come together, magical creations are born. In addition to her work as an artist, she teaches adults and children in her studio since 2010.
Since 2018 Luz is developing online classes, together with her partner, photo/videographer Anthony Verolme.
"In my art I feel a deep connection with myself and my inner world. If there were no art, there were no me."
Check your inbox to confirm your subscription