Instant Access Class | Self-Paced | Lifetime Access
Create sparkling abstract paintings


This course is a continuation to 'Pattern Playing', but you don't have to follow that one first, because this is a complete course! Learn how to build a patchwork like composition, explore new ways of decorative printing techniques and find out your new favourite colours!
'Beyond Colour Fields' Introduction Video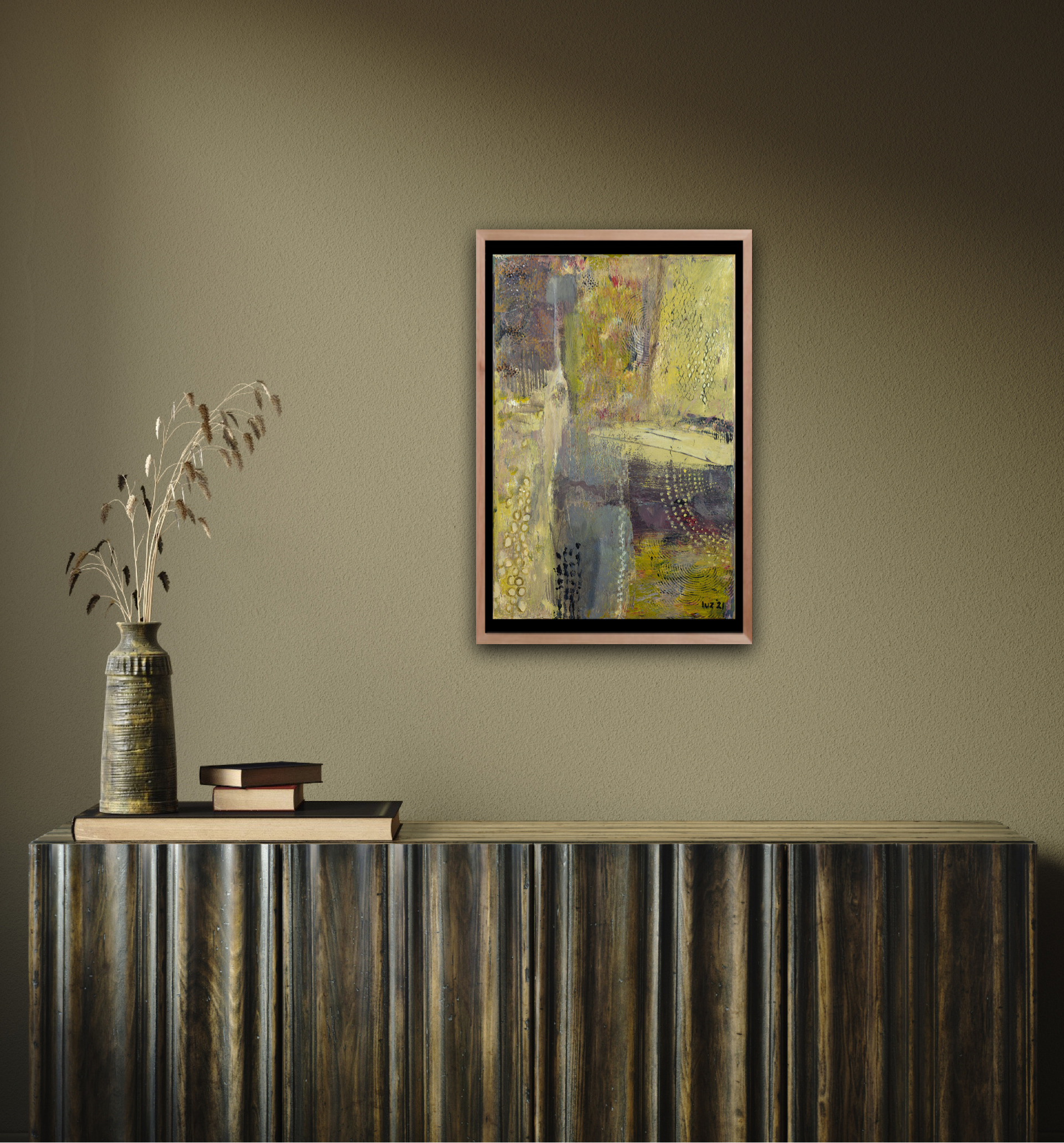 Find out what you. love
In this class I invite you to play around and take your time to prepare yourself and find out what you love, before you start with your canvas. For me, this is the ultimate way to get into the painting process! I invite you to discover new printing techniques with things you find in and around your home. 
Once you have an idea about your composition, your colours and you know your favourite printing items, you start with your project. 
We work with acrylic paint and decorate our art pieces with stamps, carving and stencilling.
Printing Paradise
Have you ever printed with a placemat? Sounds crazy, but you could use almost everything. Think of candle holders, plates, packages, etc.
Warning for your housemates: Acrylic paint all over the place!  😃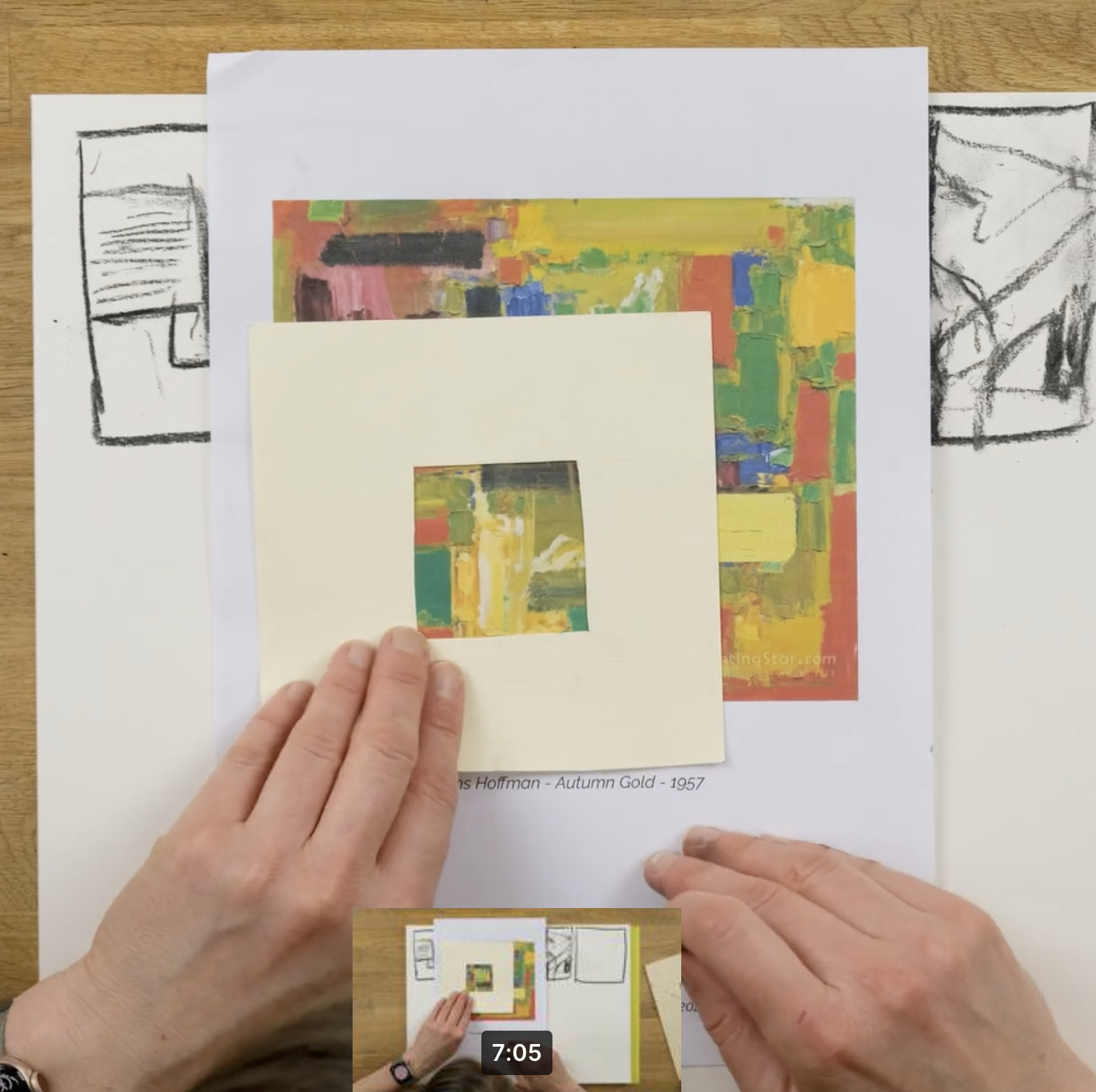 Unlimited access
The ability to watch the course at your own pace, when you want to, as often as you wish. You can watch it from your desktop, but also from your tablet or your phone in a browser or with a special iOS app.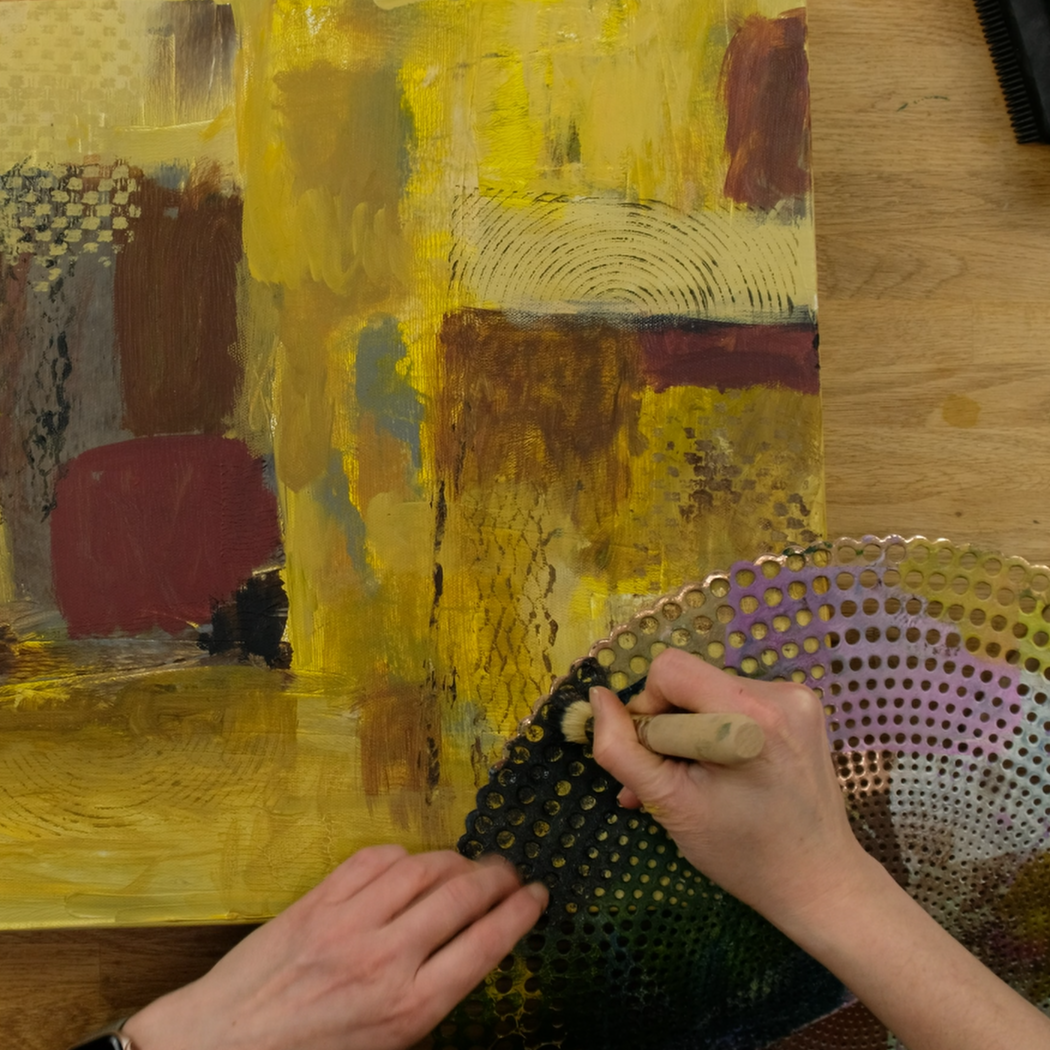 Free workbook
A workbook to download and / or print, with exercises to get you started, background information and a detailed explanation of all materials;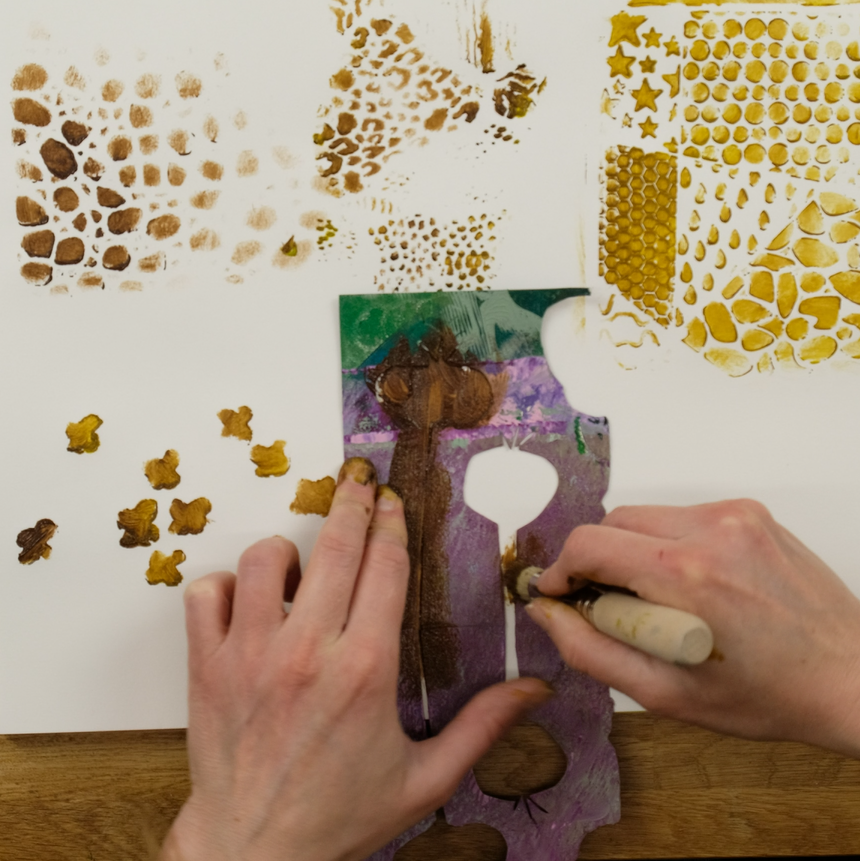 Joining our community
An invitation to join our private Facebook community Luz Artworks, where you meet with fellow artists. This is a great source of inspiration and a chance to share your work and gain valuable feedback.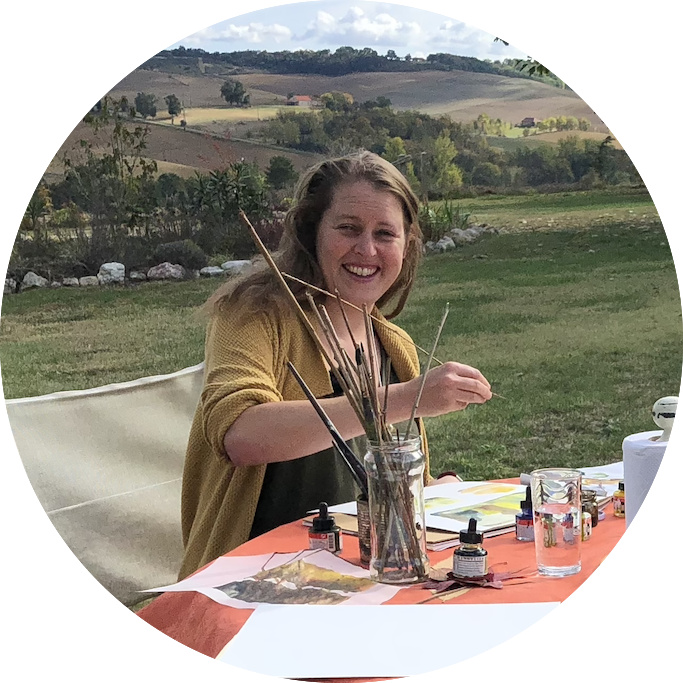 Marloes Bloedjes alias Luz is an artist living in The Netherlands, creating colourful, abstract paintings and mixed media artworks. She enjoys long walks in nature. Back home she mixes her impressions with her rich inner world. When these two come together, magical creations are born. In addition to her work as an artist, she teaches adults and children in her studio since 2010.
Since 2018 Luz is developing online classes, together with her partner, photo/videographer Anthony Verolme.
"In my art I feel a deep connection with myself and my inner world. If there were no art, there were no me."
Frequently asked questions
When does the course start and finish?
This is a completely self-paced online course - you decide when you start, how long you work and when you finish. The class is permanently open and of the course material will be available for you to view, download and work through.
How long do I have access to the course?
How does unlimited access sound? After enrolling, you have unlimited access to this course for as long as you like - across any and all devices you own. What level is the course suitable for? This course is for anyone who has ever wanted to sketch and paint trees. The material is suitable for beginners and more experienced artists.
Do I need all the art supplies?
This list of supplies is split up in two categories. There are some basic requirements, you'll need a surface to work on, (like a canvas), acrylic paint and paper for your pattern designs. It's up to you what else you use! The good thing about mixed-media is you can make a lot of stuff without much supplies.
Do I need high speed internet for the course?
Yes, you will need a good internet connection to view and/or download the video content for this course. If you're using the Teachable app on your iPad or iPhone, you could download all lessons to watch them offline.
Do I need to have experience with mixed media before I start with this class?
This class is suitable for all art levels, whether you are a beginner or an experienced artist. Everything will be explained step by step, I'll teach you a lot of techniques so there will be something new for everybody joining the course! Being open and eager to learn are more important than the level you're at!
Will there be an online community for this course?
Yes, I will provide details of how to submit a request to join the Luz Artworks Facebook community. There is also a hashtag #patternplaying that can be used on Instagram and other social media platforms.
What is the Enrollment & Checkout procedure?
Enrolling is easy and fast! Just hit one of the buttons on this page and proceed to the checkout.  If you need assistance signing up or when you 'd like to use another payment method, don't hesitate to contact me personally via email: [email protected]. When you don't receive a confirmation email after successfully signing up, please check your email spam box and confirm your account.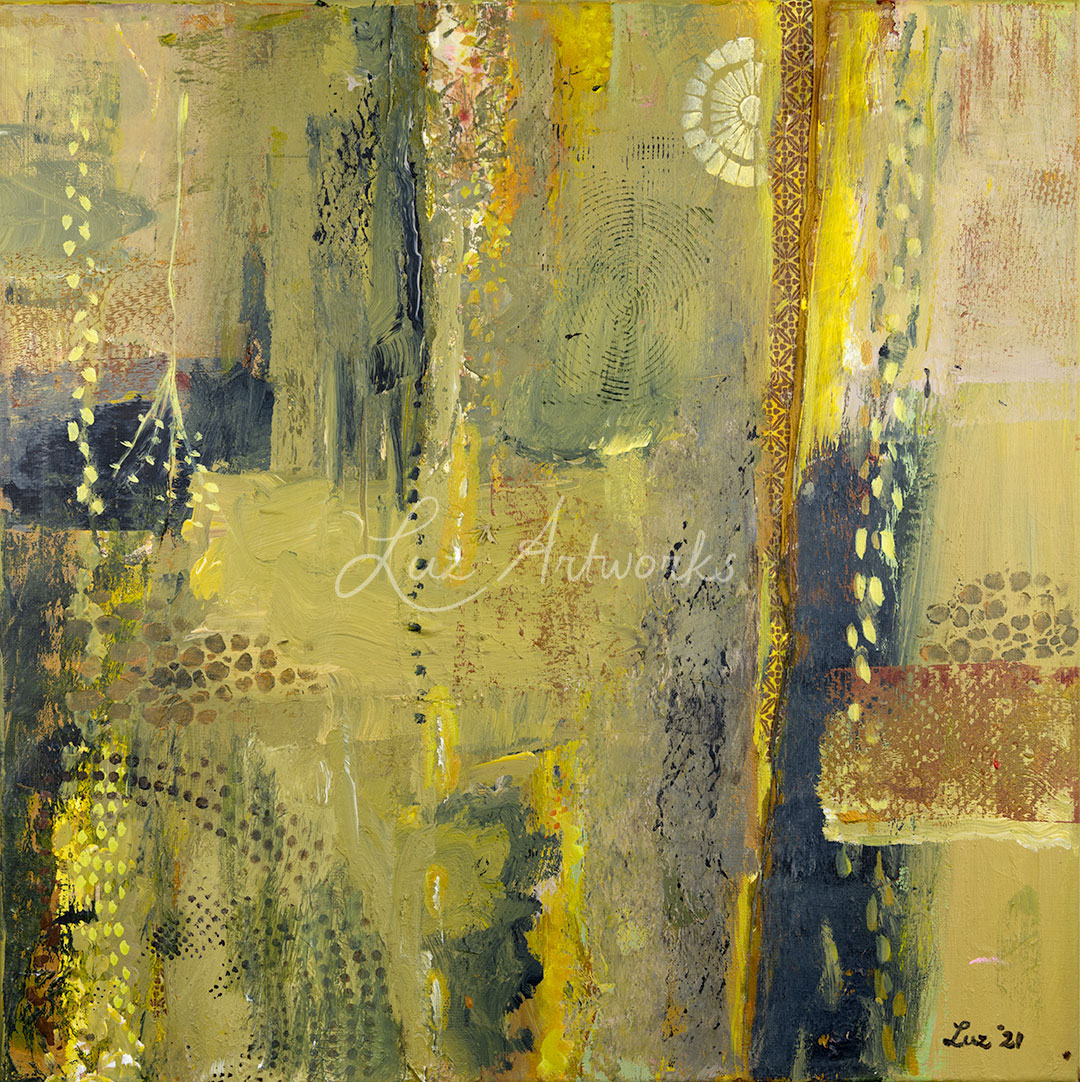 Check your inbox to confirm your subscription